Towing Interface Relays & Dedicated Wiring Kits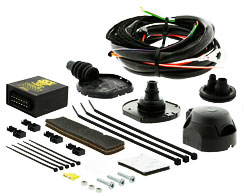 Dedicated wiring kits are not available for some vehicles, and are not always necessary. This will depend on:
The age of the vehicle
If a kit has been manufactured for this vehicle
The vehicle electronics will not be affected by the installation
For these electrical installations we will use a towing interface relay. This is run through a fused electrical system with an audible warning in the back to alert you if the indicators are not working.
Dedicated Wiring kits let your car know that it is towing, and work with the car, such as cars which have Vehicle Stability Control. Dedicated wiring will ensure you get Reversing Sensor cut out, bulb failure warning and bulb monitoring on the dashboard. We can code most vehicles but not all, so please ask us to advise you.
The types of electrical installation:
7 Pin Single Socket: required for a cycle carrier, for towing a trailer (not a Euro model), or for towing a caravan for shorter journeys (we recommend a single 7 pin socket for up to 4 hours travel).
Twin Sockets: are for towing a caravan which does not have a Euro connection, which are usually caravans manufactured before September 2008 and have 2 connections. The second socket keeps the fridge running while you are travelling and/or will trickle charge a leisure battery whilst on the move. It will also power the reversing lights on a caravan.
13 Pin Single Socket: a half system is the same as a 7 pin socket (not for a Euro trailer which need a full system). The full 13 pin system performs in exactly the same way as twin sockets.
* A (12n) or single socket is compulsory when having a tow bar fitted.